These garlic knots are soo fluffy, soft and simply delicious!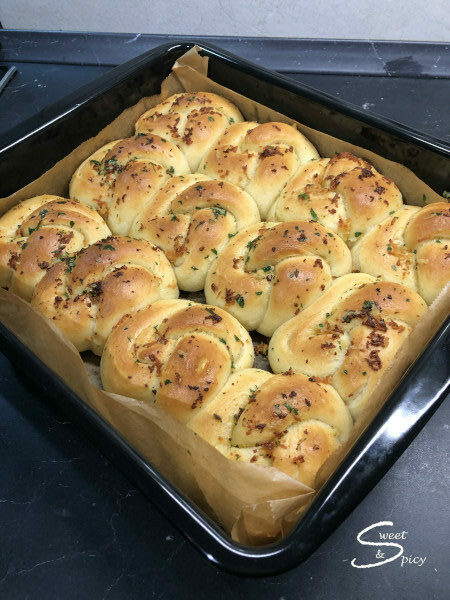 They go well with a salad, barbecue and anything that you would eat bread with. Perfect for sandwiches too.
These garlic knots are made with a milk-roux. This makes the dough even more moist because the flour can absorb more liquid.
To get a nice pleasant garlic flavour, we stir the garlic to a gold brown in butter first. The knots will be spread with this, once before baking and once after baking.
Yes, they contain a lot of butter and milk, but that's what gives them this special flavour, which harmonises perfectly with the garlic.
Garlic Knots
Zutaten
Dough
200

g

milk

30

g

milk powder (optional)

15

g

fresh yeast (or 5g dry yeast)

450

g

flour

2

tsp

salt

2

tsp

sugar

1

egg

some

grounded

pepper

50

g

butter
Garlic butter
6

cloves

of garlic

110

g

butter

1

tsp

chopped parsley
Anleitungen
Milk roux
Stir milk and flour in a small pot.

Heat slowly, stirring constantly.

When it has set (like choux pastry), remove from heat.
Knead dough
Add milk roux, liquid milk, milk powder, yeast, flour, sugar, egg, salt and pepper in a mixing bowl and knead for about 12 minutes.

Then add butter and knead for another 5 minutes.

Place dough on a lightly floured surface and form to a ball. Grease mixing bowl lightly with butter or oil.

Place dough back in the mixing bowl and leave to rise in a warm place for about 1 ½ hours.
Garlic butter
Grate or chop the garlic cloves finely.

Melt butter in a small pot.

Add garlic and cook it for 1 to 2 minutes, stirring constantly.
Form knots
Line a baking pan with baking paper. (Mine is about 28 x 30cm.)

Divide the dough into 12 equal pieces. ( Mine were 76g.)

Flatten each piece of dough into a rectangle with your fingers.

Roll with fingers into a log about 32cm long.

Place seam side down in the baking pan.

Cover with a cloth and leave to rise in a warm place for about 30 to 40 minutes.
Finishing
After rising brush the knots with about half of the garlic butter. Use also the garlic on the pot bottom.

Bake in preheated oven at 185° C for 20 minutes.

Mix the chopped parsley into the remaining garlic butter. If the butter has already solidified, warm it briefly.

While still hot, brush the knots with the parsley, garlic butter.
Enjoy baking!
Maggi und Family
Please do not hesitate to share your ideas with me!
Suggestions and critics are welcome.
Instagram: use #sweetandspicyde or @sweetandspicy.de, so I can see your creations.
Thank you!
https://www.sweetandspicy.de/wp-content/uploads/2022/01/Knoblauch-Knoten..jpeg
450
600
sweet and spicy
https://www.sweetandspicy.de/wp-content/uploads/2018/03/Logokleinschwarz340-300x200.png
sweet and spicy
2022-02-03 20:44:46
2022-02-03 20:44:48
Garlic Knots