Once a year we have these homemade carnival doughnuts (Krapfen). When we were kids, our aunt always came to our parent's house to make Krapfen. In Austria we call them, Carnival Krapfen, in Bayern, simply Krapfen, in some German states, they are known as Berliner, or Berliner "Pancakes"?!…. 🙂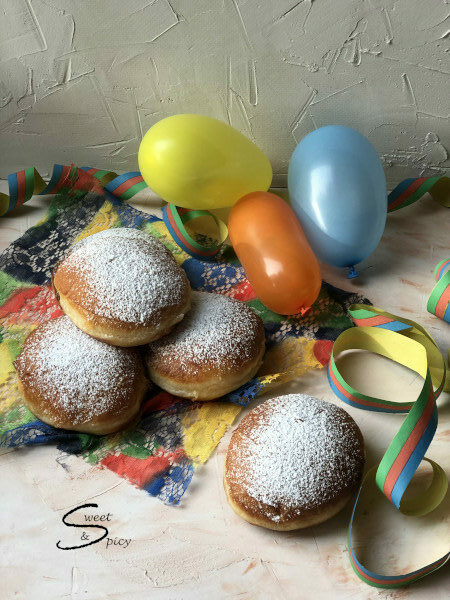 The Krapfen is traditionally filled with apricot jam but you can also fill them with other jams, custard or similar.
There is rum in the dough, which provides a rounded, full taste, and prevents the Krapfen from absorbing less fat.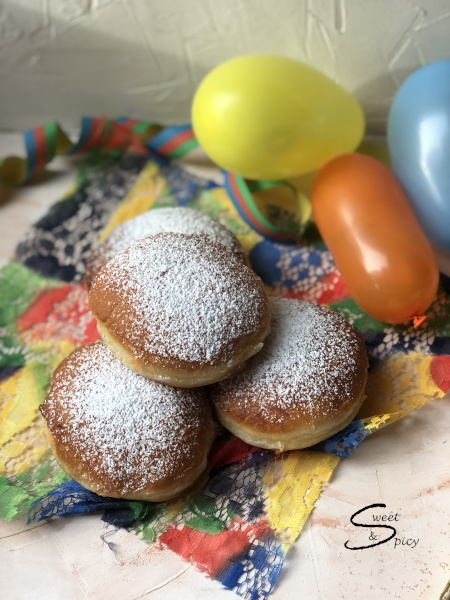 The fat for frying should not be too hot, otherwise they will brown too quickly and not be cooked through inside.
The Krapfen taste best fresh. However, if you have some leftover, on the next day, just briefly heat them in the oven or microwave, they will taste almost like fresh again.
Krapfen – Carnival Doughnuts
Zutaten
Yeast dough
160

g

lukewarm milk

25

g

fresh yeast or 8g dry yeast

80

g

sugar

1

tsp

vanilla extract

500

g

flour

½

tsp

salt

1

egg

2

egg yolks

1

tbsp

rum

some

grated

lemon and orange peel

80

g

softened butter
Anleitungen
Put all the ingredients for the dough in a mixing bowl and knead for about 12 minutes.

Transfer the dough to a floured surface, shape into a ball, and place in a lightly oiled bowl (mixer bowl).

cover the bowl, and leave to rest in a warm place for about 1 hour.

Roll out the dough on a floured surface to about 2 cm thick.

Cut out circles with a cookie cutter or a glass.

Place spaced apart on a baking sheet or plate with baking paper (or floured tea towel).

Cover and let to rise in a warm place for about 30 minutes.

For deep-frying, heat plenty of oil to 160 – 170° C in a pot.

Place the dough pieces in the hot oil with the top side down.

Turn over and fry the other side for another 3 minutes.

Place on a paper towel and leave to drain.

Whip the apricot jam with a handmixer, if you like, so that it is more fluffy.

Fill the jam into the krapfen. (I use a piping bag and a filling nozzle).

Dust with powdered sugar.
Enjoy baking!
Maggi & Family
Another inspiration for carnival (or just in between):
Carnival Titbits
Please do not hesitate to share your ideas with me!
Suggestions and critics are welcome.
Instagram: use #sweetandspicyde or @sweetandspicy.de, so I can see your creations.
Thank you!
https://www.sweetandspicy.de/wp-content/uploads/2022/02/Faschingskrapfen.....jpeg
450
600
sweet and spicy
https://www.sweetandspicy.de/wp-content/uploads/2018/03/Logokleinschwarz340-300x200.png
sweet and spicy
2022-02-25 10:50:04
2022-02-25 10:50:06
Krapfen - Carnival Doughnuts