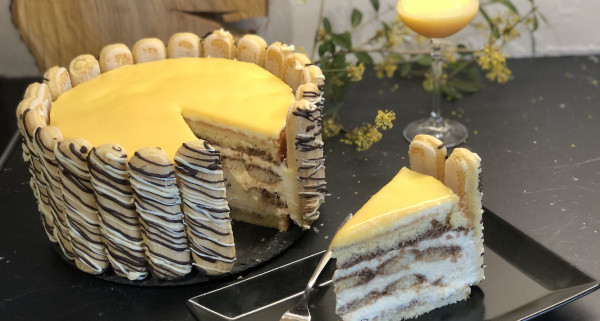 I wanted to bake a beautiful cake, like a 'Wow' cake! Since it will soon be easter, I thought why not an Egg Liqueur Cake, and to make it like even more 'interesting', why not pack tiramisu with it. The result was a wonderful Egg Liqueur Tiramisu Cake.
This cake has a fluffy sponge base soaked with coffee, between the layers a mascarpone cream refined with lots of egg liqueur and of course ladyfingers. On the top shines a layer of egg liqueur surrounded with ladyfingers which were decorated with chocolate.
I think this delicious cake is perfect for the Easter holidays, as a birthday cake or just so.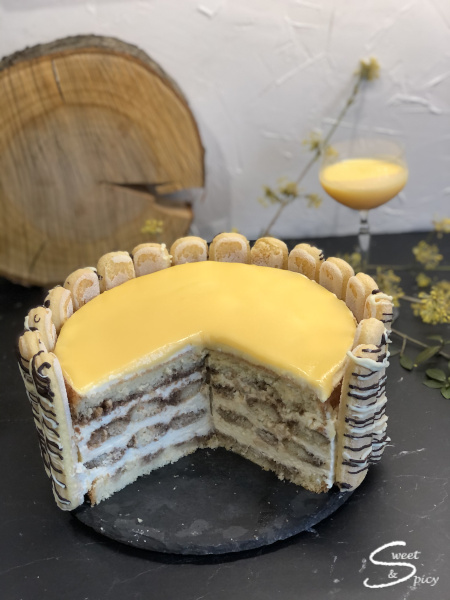 This cake is not recommended for kids, obviously because of the alcohol, unless you use a non-alcoholic egg liqueur.
Normally, gelatin has no place in a tiramisu, but you need it here for stability.
Soak the ladyfingers a coffee and amaretto mix. However, I like it best with some cocoa powder added. Just a question of taste.
Egg Liqueur Tiramisu Cake
Fluffy sponge base filled with an egg liqueur mascarpone cream and ladyfingers soaked in coffee. This cake is rounded up with chocolate decorated lady fingers and an egg liqueur glaze.
Zutaten
Sponge Cake
4

eggs

100

g

sugar

a

pinch of

salt

some

vanilla (depending on taste)

100

g

flour
Mascarpone cream
200

g

single cream

500

g

mascarpone

100

g

powdered sugar

some

vanilla (depending on taste)

a

pinch of

salt

250

g

egg liqueur

1

sachet

instant gelatine (= 6 leaves gelatine)
Further
about 38

ladyfingers (400g packet)

150

ml

cold coffee

2

tbsp

instant cocoa

4

cl

Amaretto

50

g

semibitter chocolate

50

g

white chocolate

150

g

egg liqueur
Anleitungen
Sponge cake
Place a baking paper in a 20 cm Ø springform. (bottom only)

Whisk whole eggs, sugar, salt and vanilla until light creamy. (about 10 minutes)

Sieve flour on mixture and fold in carefully.

Pour mixture in prepared springform and spread evenly.

Bake in preheated oven for about 25 minutes.

Leave to cool for around 10 minutes, put cake out of the form and leave to cool completely
Mascarpone cream
Mix mascarpone, powdered sugar, vanilla, salt and egg liqueur in a separate bowl.

Set aside 1 tbsp of the instant gelatine for the glaze and mix the rest of the instant gelatine in the mascarpone cream.

Fold whipped cream in mascarpone cream.
Layers
Mix coffee, cocoa powder, and Amaretto in a deep plate.

Cut sponge cake in two layers and place one on a cake plate.

Put a cake ring around the sponge layer.

Sprinkle a bit of the coffee mixture over the sponge layer. (about 3 tbsp)

Spread about ¼ of the masparpone cream over the sponge layer.

Dip ladyfingers in coffee mix and arrange on masparpone cream. (I used 8 ladyfingers)

Spread a layer of mascarpone cream.

Arrange another layer of coffee soaked ladyfingers. (I used 8 ladyfingers)

Cover again with a layer of mascarpone cream.

Sprinkle the second sponge layer with about 3 tbsp of coffee mix and place on mascarpone cream.

Spread last layer of mascarpone cream on cake. (keep 3 tbsp of cream for later)

Place cake in the fridge for 4 hours or better overnight to cool.
Finish
Chop white and dark chocolate separately. Put each in a freezer bag and put in hot water to melt. (To decorate cut tip of freezer bag – Homemade piping bag)

Lay remaining ladyfingers in a row and decorate with the chocolate. Leave to dry.

Remove cake ring. Spread rest of mascarpone cream on the side, so that the ladyfingers stick better.

Stick ladyfingers around the cake. Press carefully.
Glaze
Mix egg liqueur with the rest of instant gelatine. (1 tbsp)

Pour on cake and spread with a spoon evenly.

Leave to cool for about ½ half an hour.
Enjoy baking!
Maggi & Family
Are you in the mood for more?
Strawberry Elderflower Cake
Simple Strawberry Cake
Berry Chocolate Cake
Winter Apple Cake
Choco Coco Cake

Please do not hesitate to share your ideas with me!
Suggestions and critics are welcome.
Instagram: use #sweetandspicyde or @sweetandspicy.de, so I can see your creations.
Thank you!
https://www.sweetandspicy.de/wp-content/uploads/2021/03/Eierlikör-Tiramisu-Torte....jpeg
450
600
sweet and spicy
https://www.sweetandspicy.de/wp-content/uploads/2018/03/Logokleinschwarz340-300x200.png
sweet and spicy
2021-03-17 21:10:10
2022-12-18 16:15:42
Egg Liqueur Tiramisu Cake