This strawberry rhubarb pie is next to the apple pie, one of the most delicious pie I know! 😛 The sweet and fruity strawberry harmonizes particularly well with the slightly sour rhubarb. And then with the delicious pie crust…. Heaven!!!!
A scoop of vanilla ice cream goes well with this pie, but for me it works just as well without too.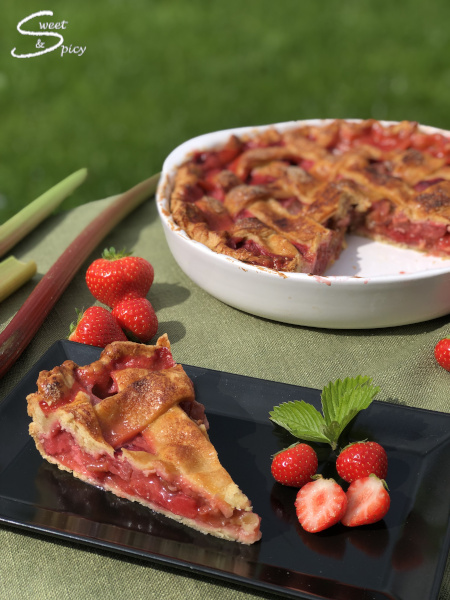 The pie crust is not difficult to make, you just have to keep a few things in mind. The filling is prepared very quickly and the "woven top", I tried to describe as good as I could. But even that is not impossible to do.
In any case, it is worth the effort because it just looks good and tastes soo… delicious. When the pie is baking, it smells really tempting. The most difficult part is to let the pie cool down first, so that the juice from the fruit "solidifies" a bit.
Best Pie Crust
Zutaten
350

g

flour

1

tsp

sugar

1

tsp

salt

250

g

cold butter

6

tbsp

ice cold water
Anleitungen
Mix flour, sugar and salt.

Add cold butter pieces and knead. (Best using a food processor.)

Add ice water and knead for a very short moment.

Divide dough in two and wrap in cling film.

Place in fridge for 1 hour.
Rezept-Anmerkungen
The butter and water should be very cold.
The dough should stay cold, that is why it is best to use a food processor to knead.
Knead the dough shortly, so it stays buttery and flaky.
For the ice water I use a small bowl with water and ice cubes. Out of this I take the 6 tablespoons of ice water.

Strawberry Rhubarb Pie
Zutaten
Filling
500

g

strawberries

500

g

rhubarb

70

g

brown sugar

70

g

white sugar

40

g

cornstarch

some

vanilla

a

pinch of

salt
Anleitungen
Half or quarter strawberries. (depending on size, not too small)

Cut rhubarb in about 1 cm piece and mix with strawberries in a bowl.

In another bowl, the white and brown sugar, cornstarch, vanilla and salt.

Roll out one part of the pie crust dough on a floured surface and put in pieform.

Mix sugar-mix in the strawberry-rhubarb-mix.

Spread filling evenly on pie crust.

Roll out second pie crust on a floured surface.

Put 5 stripes vertical on the pie. (longer stripes in the middle, shorter on side)

Fold back each second stripe to the middle and put one stripe horizontal. Fold the stripes down again.

Then fold back the stripes that were previously down and put another stripe horzontal and so on.

There must be 5 stripes vertical and 5 horizontal. (Longer stripes in the middle, shorter to the sides.

Fold in the ends of the stripes. (between form and pie)

Mix egg yolk and milk and brush on the striped top.

Sprinkle brown sugar on top.

Bake in preheated oven at 200° C for about 60 minutes on the lowest rack.

Place baking paper on the bottom of the oven in case the sauce drips.

If it gets too brown quickly, cover the pie with an aluminum foil after about 40 minutes.

The pie is ready when the the sauce bubbles.

Leave to cool completely. (2 hours or longer)
Enjoy baking!
Maggi & Family
Please do not hesitate to share your ideas with me!
Suggestions and critics are welcome.
Instagram: use #sweetandspicyde or @sweetandspicy.de, so I can see your creations.
https://www.sweetandspicy.de/wp-content/uploads/2021/06/Erdbeer-Rhabarber-Pie.....jpeg
450
600
sweet and spicy
https://www.sweetandspicy.de/wp-content/uploads/2018/03/Logokleinschwarz340-300x200.png
sweet and spicy
2021-06-22 22:31:04
2021-06-22 22:31:05
Strawberry Rhubarb Pie