Every year I look forward to the fresh apricot season, to make delicious apricot dumplings. A simple recipe with simple ingredients and terrific result, delicious.
The Pie Crust tastes very flaky and buttery, the typical American Pie.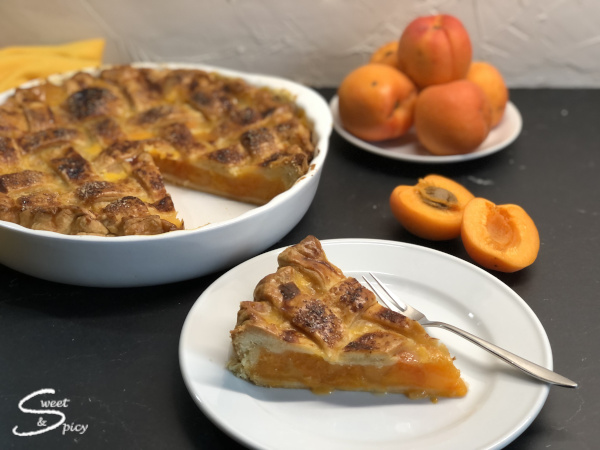 It is best to take ripe apricots, then the taste literally explodes :-).
We now have the, Best Apple Pie and the, Strawberry Rhubarb Pie on our blog. I think they all taste great.
First we need a Pie Crust, which can be prepared the day before.
Best Pie Crust
Zutaten
350

g

flour

1

tsp

sugar

1

tsp

salt

250

g

cold butter

6

tbsp

ice cold water
Anleitungen
Mix flour, sugar and salt.

Add cold butter pieces and knead. (Best using a food processor.)

Add ice water and knead for a very short moment.

Divide dough in two and wrap in cling film.

Place in fridge for 1 hour.
Rezept-Anmerkungen
The butter and water should be very cold.
The dough should stay cold, that is why it is best to use a food processor to knead.
Knead the dough shortly, so it stays buttery and flaky.
For the ice water I use a small bowl with water and ice cubes. Out of this I take the 6 tablespoons of ice water.
And now we continue…
Apricot Pie
Zutaten
Filling
900

g

fresh apricots

3

tbsp

sugar

3

tbsp

corn starch
To bush
1

egg yolk

1

tbsp

milk

2

tbsp

brown sugar
Anleitungen
Roll out a half of the pie crust on a floured surface. Place in pie form.

Pit the apricots and cut into wedges.

Mix the apricot wedges carefully with sugar and corn starch.

Place the filling on the pie crust.

Roll out the 2nd half of the pie crust on a floured work surface and cut into 10 equal stripes.

Place 5 stripes vertically on the pie. (The longer ones in the middle, the shorter ones on the side).

Now unfold every 2nd stripe and lay one stripe horizontally. Fold the stripes back again. Then fold up the stripes that were down first and put a stripe horizontally again, fold back.

Continue so that the 5 stripes are woven in horizontally.

Fold the overhanging edges inwards. (between pie and mold)

To form the typical pie edge, hold your thumb and index finger to the edge with one hand and press the dough between them with the index finger of the second hand.

Mix the yolk and milk, and brush the pie.

Sprinkle the pie with brown sugar.

Bake in preheated oven on the lowest rack at 200° C, for about 1 hour.

(I put a baking paper on the bottom of the oven in case the juice drips).

Let the pie cool down before cutting.
Enjoy baking!
Maggi & Family
Please do not hesitate to share your ideas with me!
Suggestions and critics are welcome.
Instagram: use #sweetandspicyde or @sweetandspicy.de, so I can see your creations.
Thank you!
https://www.sweetandspicy.de/wp-content/uploads/2021/07/Marillen-Pie.....jpeg
450
600
sweet and spicy
https://www.sweetandspicy.de/wp-content/uploads/2018/03/Logokleinschwarz340-300x200.png
sweet and spicy
2022-07-22 13:59:22
2022-07-22 13:59:23
Apricot Pie