Does Mohnzelten say anything to you? 🙂
Mohnzelten is a speciality of the Waldviertler region in the state of Lower Austria.
Just potato dough with a poppy seed filling.
As I always say, simple but really delicious! 🙂
Mohnzelten, for picnics and snacks on the road.
We have poppy seeds in different recipes from time to time, not just because they're healthy, but they taste so good too.
On our foodblog you will also find Poppy Seed Cake, Poppy Seed Tart, Poppy Seed Strudel with Plums, Austrian Poppy Seed Fingers or Poppy Seed Biscuits.

Mohnzelten – An Austrian Speciality with Poppy Seed
Zutaten
Potato Dough
300

g

boiled potatoes (same like for mashed potatoes)

500

g

flour

250

g

butter

2

eggs

2

tbsp

cream

a

pinch of

salt

1

tsp

baking powder
Poppy Seed Filling
75

g

butter

150

g

grinded poppy seed

120

g

sugar

1

tbsp

honey

½

tsp

cinnamon

some

grated

lemon peel

a

dash of

rum
Anleitungen
For the poopy seed filling, melt butter in a pot.

Add sugar, honey, poppy seed, cinnamon, lemon peel, rum and stir.

Peel the boiled potatoes.

Grate also the butter or cut on small pieces.

Add flour, eggs, cream, salt and baking powder and knead to a dough. Should be done short and quick.

Form the dough to a roll.

Cut slices from the dough, press a bit and fill with 2 tsp of poppy seed filling.

Press the dough edge together (remove remaining dough if necessary) and form to a ball.

Place on a baking tray with baking paper. (Sealed point down.)

Flat the balls with your palm lightly. Pierce the top with little holes using a fork.

Bake in preheated oven at 200° C for 15 minutes.

Remove from oven, overturn the buns and bake again for 15 minutes.

Remove from oven and leave to cool.
Rezept-Anmerkungen
Tipp: You can boil the potatoes one day before (best)
or if you boil the potatoes on the same day, mash the potatoes and leave to cool before using.
If you pack the Mohnzelten in cling film they will stay fresh longer.
Enjoy baking!
Maggi & Family
I couldn't get any grounded poppy seeds, so I bought whole poppy seeds and used the coffee grinder, just perfect! 🙂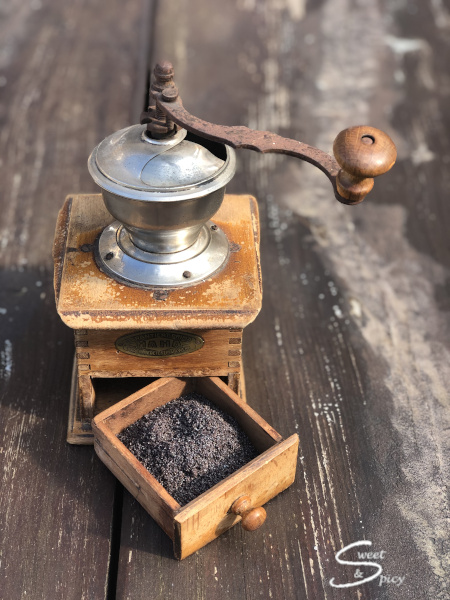 https://www.sweetandspicy.de/wp-content/uploads/2020/03/Mohnzelten...jpeg
450
600
sweet and spicy
https://www.sweetandspicy.de/wp-content/uploads/2018/03/Logokleinschwarz340-300x200.png
sweet and spicy
2020-04-17 15:07:16
2020-04-17 15:07:18
Mohnzelten - An Austrian Speciality With Poppy Seed